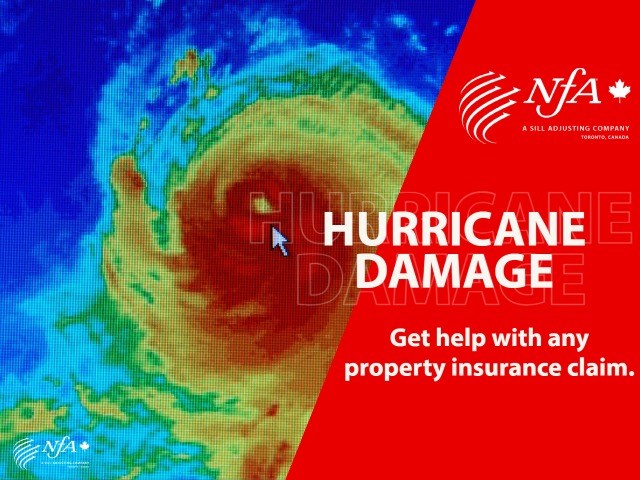 Hurricane Fiona slammed into eastern Canada over the weekend, leaving hundreds of thousands without power and significant property damage.
Weather experts say it was the "lowest pressured land falling storm on record in Canada." Prime Minister Just Trudeau had deployed Canadian armed forces to assist with clean-up efforts.
Storm damage and power outages are reported across Nova Scotia, Prince Edward Island, and Newfoundland.
News reports say the storm had wind gusts of up to 170 km/hour. Homes were swept away by storm surge, bridges and roads were damaged, and schools and community centers had roofs torn away.
Our disaster response team is available to assist commercial property owners facing damage and insurance claims related to Fiona.
NFA is Canada's oldest and largest public adjusting firm. We have the experience to handle large, complex hurricane insurance claims. A public adjuster does not work for the insurance company; they represent the property owner throughout an insurance claim.
Here's what we do:
Review your insurance policy
Document your property damage, including all contents
Handle all communication with your insurance company
Settle your claim faster
Hiring NFA means you'll have an insurance expert on your side throughout the complicated insurance claims process.
Canadian government officials say it would take weeks for cleanup crews to handle the damage and destruction left behind. An insurance claim could take much longer, especially for commercial property claims.

When you hire NFA Public Adjusters, we will take on the burden of handling the claim, so you don't have to. Our team can carefully inspect your property and produce a detailed proof of loss report to support your claim. We are experts when it comes to insurance policy language, so we will identify all coverages you are entitled to.
Our team can set up meetings and negotiate directly with your insurance company about the terms of your settlement. When you hire NFA, you get the insurance settlement you deserve.
If you own a commercial property that has been damaged by Hurricane Fiona, you can contact NFA 24/7. Get your claim started now by calling 800.790.2622. 
SOURCE | The Guardian